2017 Kia Sportage : Perfect for Your Active Lifestyle
May 17 2017, Leggat Kia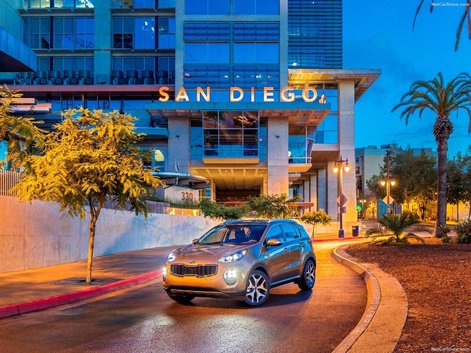 Completely redesigned last year, the 2017 Kia Sportage truly has it all.
With its spacious interior, world-class design, sporty driving dynamics, impressive safety equipment, and fuel-efficient engines, the 2017 Kia Sportage is the perfect compact SUV for active buyers looking for a vehicle that is as versatile as they are.
Powerful and Fuel-efficient Engines in the 2017 Kia Sportage
Offered at just $26,750, the 2017 Kia Sportage comes equipped out of the gate by a 2.4-liter, four-cylinder GDI engine that delivers 181 horsepower and 175 lb.-ft. of torque. This engine is the entry-level powertrain in the new Sportage, yet it is more powerful than many of the top-of-the-line engines found in other models of the compact SUV segment.
That said, it's certainly not the most powerful in the Sportage lineup. That honor goes to the SX trim, with its 2.0-liter, turbocharged four-cylinder engine that delivers 237 horsepower and 260 lb.-ft. of torque. With that much torque available at such low RPMs, the 2.0-liter turbo in the 2017 Sportage is quick on its feet and provides the driver with all the power he or she needs.
Both engines are matted to a six-speed automatic transmission that certainly improves driving behavior, as it doesn't have the rubbery feel of a CVT automatic. Front-wheel drive is standard while the Dynamax all-wheel drive system is optional.
Numerous Standard and Optional Features in the 2017 Kia Sportage
From the start, the 2017 Kia Sportage has a lot to offer: standard air conditioning, heated front seats, 17-inch alloy wheels, and rear-view camera. It only gets better from there with features such as 18-inch wheels, a 7-inch LCD audio display with Android Auto, push-button start, leather seats, panoramic sunroof, blind spot detection, heated steering wheel, and rear parking sensors, which are all found on other versions of the 2017 Kia Sportage.
To learn more about the new Sportage, contact us today at Leggat Kia.